Diabetic Retinopathy Treatment With Lehigh Eye Specialists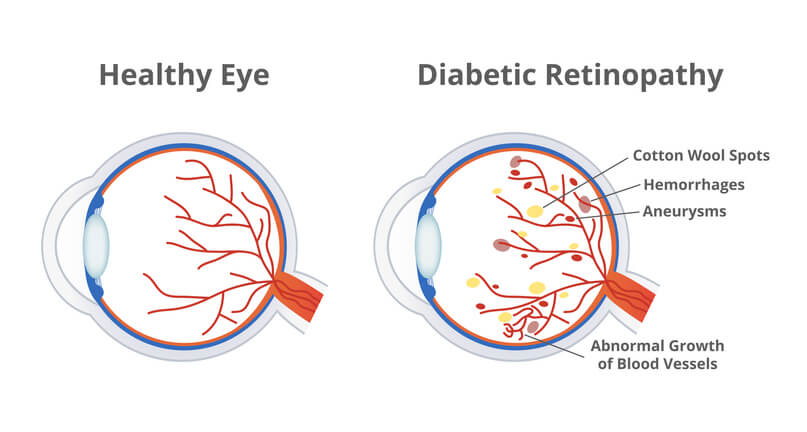 What is Diabetic Retinopathy?
Diabetic retinopathy is a complication of diabetes that affects the eyes. This eye disease occurs when high blood sugar levels damage the tiny blood vessels in the retina. The retina is the light-sensitive tissue at the back of the eye.
Over time, these damaged blood vessels can leak fluid and cause blurred vision. It can even cause new abnormal blood vessels to grow on the surface of the retina. Diabetic retinopathy is one of the leading causes of blindness among working-age adults.
How is Diabetic Retinopathy Treated?
Treatment for diabetic retinopathy depends on how far it has progressed. Intravitreal injections and other forms of treatment may be necessary to preserve and restore vision. Laser surgery may also be able to seal off leaking blood vessels and stop further damage from occurring.
There are various drugs that can be used to treat diabetic retinopathy. Examples of these drugs include steroids, which help reduce inflammation, and Anti-VEGF agents which can decrease swelling and prevent new abnormal blood vessel formation.
In addition to drug treatments, laser surgery is also commonly used to treat complications of diabetic retinopathy and stop further damage from occurring.
Causes of Diabetic Retinopathy
Diabetic retinopathy is caused by prolonged exposure to high blood sugar levels. People who have diabetes and fail to manage their condition properly are at greater risk of developing diabetic retinopathy. Additionally, people with high cholesterol, high blood pressure, heart disease or a family history of diabetes are also more likely to experience diabetic retinopathy.
Diabetic Retinopathy Symptoms